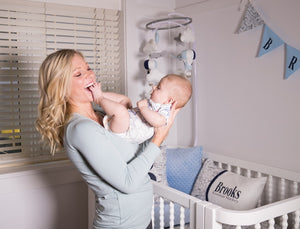 Nursery Themes that Create Baby Zen by Anna Kooiman

Pulling together your first born's nursery - it's kind of a right of passage as a woman. Do you feel me? I was super duper excited about decorating our nursery from pretty much the pregnancy get go. I had these visions like you see in the movies. You know the type. Where the mom to be is heavily pregnant, painting the walls, while wearing cute overalls or something else cliche, with a big basketball showing through. Well, that didn't happen exactly! In fact at the end of pregnancy my basketball had turned into an overgrown beachball. People would often say things like, "Are you sure there aren't two in there?!" Haha! I had loads of fluid in my legs and feet. The last thing I felt like doing was painting!
But... I did manage to pull together what is very close to my dream nursery! It is so special. I spend a lot of time in there breastfeeding Brooks in the wee hours of the night, so it better be cozy. And if we want a zenned out little bubby, it better have a relaxing vibe. Tick. Tick. Tick! Check out the personalized baby bunting, teepee, play mat, and crib set by Hoot DesignZ. LOVE! We also have a salt lamp and a paradise iDream app going in there 24/7. Sometimes I wish it was my little nook for taking naps!
I went with the classic, baby blue as the main color, complemented by navy and black. Similar to our Central Park wedding, I knew I wanted the nursery to have a travel theme. Travel is near and dear to me because my husband and I dated internationally in some of the world's most amazing cities before he moved to NYC and then we moved to his home country, Australia. I focused on finding accessories that featured planes, trains, globes, maps, etc. I found an amazing company here in Oz that specializes in custom nursery designs. After telling the owner of Hoot DesignZ my ideas, she gave me several different fabric options. They were all great. How to choose!? I decided on the one you see here because I had read the contrast would be good for our little one's vision development.
Below you will find a Q and A with the owner of Hoot DesignZ, Rhonda Daniel about how to pick the perfect nursery theme for you and your baby. If you're looking for info about the French inspired, rocking nursing chair by Life of Style, click here. If you like the crib and change table from the Spindle range at Incy Interiors, click here.
ANNA: What trends are you noticing in nurseries right now?

RHONDA: Our Boho Dreamcatchers, Indian Headdresses and feathers for both boys and girls, are popular at the moment along with our tropics range. We match these with soft hues of baby pink, blues and mint to suit the customers colour palate. Elephants are always a staple in any nursery décor and our princess and prince Billy design is proving that. We have also noticed that customers are starting to choose more boldly using mustards, forest greens and natural tones to style their nursery.

ANNA: My two favourite nursery trends are teepees and triangle baby bunting. I wanted to make sure I included those in Brook's special space. What advice do you have for picking fabrics/colours for these?

RHONDA:    We would normally encourage our customers to choose colours and fabrics that will complement the bedding, décor and theme of the room. In Brooks' case we incorporated the fabric design of the cot set, on the front of the Teepee and the end flags of the bunting to tie in with the rest of the room décor. In other cases we would normally discuss the chosen theme with the customer and then recommend a design. We have had instances where we have collaborated with the customer over a few days to create the perfect design much like yourself. With Brooks' design we created a dream board that consisted of the colours and tones you wanted, and the love story between you and your husband of all the magical places you visited and came from. I love traveling the Journey with the customer especially if there is a story.

ANNA: The nursery is a sanctuary for both mum and baby. Do you recommend any particular colours to pick or colours to stay away from.

RHONDA: Decorating a nursery is most definitely a personal experience. Most of our customers already have a colour palate in mind when they contact us. More popular colours are the soft pinks, lilacs, blues and mint greens as they all have a calming effect. We don't recommend to stay away from colours as such, however we do ensure that the colours are balanced and blend well.
When choosing bright, bold colours , we encourage our customers to incorporate them so that they are a "POP" of color blending with the theme. For example, red is such a strong bright colour, when used as an accentuating colour within the design it can create an energizing effector to bring out the character in a room, while balancing and lifting a theme. Grey color palettes are a wonderful toner and generally balance out a room, especially if there is a lot going on. It's all about balance, tone and design working together to create your perfect sanctuary.

ANNA: Do you advise parents to stick to a theme, a colour scheme, or just put together a nursery full of items they will enjoy?

RHONDA: When our first time mums contact us to help design their nurseries they will essentially have a few ideas. However some are naturally overwhelmed and find it hard to make a decision. We are there to help guide them through the process in choosing what is best. We do get a few parents who are torn between two different designs so that order a few different items that don't necessarily match together so we change the colors so that they can still utilize all the different themes while keeping to the same color scheme. This enables parents the flexibility to either use all the items together or have two different looks for the nursery. 

ANNA: What advice do you have for parents trying to put a nursery together before baby is due, and the gender is going to be a surprise?

RHONDA: Looking back on our first bub it was such an exciting experience (overwhelming, but exciting). We wanted nothing more than to keep our baby's gender a surprise. We bought everything gender neutral in natural tones of taupe and white for our nursery. As soon as our curly haired little boy was born I wanted nothing more than to change the cot set to navy, red and white. I spent so much time and money changing everything in the nursery because it wasn't what I wanted. So it's important to choose something that has a great gender neutral base like grey so that you can add the gender specific colours in once baby is born.

Our Marble Cot Set is the prefect base for a gender neutral nursery/bedding. We recommend this Design often because it offers the opportunity to accessorize with different colours after the baby is born. Add a Pink Mink Scatter cushion here, or a blue Ellie Musical Mobile there. The options are endless without the additional cost of replacing a whole cot set. Versatility and flexibility is key!

ANNA: Redecorating can be expensive! And we all know babies are expensive! Are there particular colours, themes, or fabrics that seem to last beyond just a couple years for baby's Life?

RHONDA: All our products are handcrafted from quality fabrics including 100% Cotton and A grade mink which are made to last. Trending colours like your mustards and colours themes, will always come and go with the wind. Timeless colour palates with a combination of baby pink, grey, baby blue, white and mint will stand the test of time and depending on gender can be passed on from child to child. Florals and ship anchors for example can be utilized in other areas of the house. Our Panel Blankets make a great couch blanket in the winter, and our padded deluxe comforters look divine at the foot of a bed as a throw or coverlet for extra warmth at night.

Ideally you would benefit from purchasing decor/bedding that you can keep adding to as your little one grow older. This is where we come in as we can make a "standard" size bed cover to match your nursery decor so that you can use them together - not wasting your product or money.
Its important to make sure your covers are the right size for your cot so you get enough tuck ,in but not too much that the baby becomes tangled . The ideal size for your cot cover is roughly 130cm x 90cm (this is for a standard cot - 77cm x 133cm) Some covers are sold as a cot cover/ play mat,these covers are generally too small and are actually best suited for tummy time.
ANNA: Any advise for parents looking to put together a fabulous nursery on a small budget?

RHONDA: Working to a small budget is tough. Especially when you have champaign tastes. We love bringing our products to everyone and cater for them through our different products and payment options.

Our advice would be to start planning and purchasing products individually over a period of time. Not everyone can afford to purchase everything at once and that is why we offer our products as individual items. Talk to us and discuss your colour scheme and theme with us and we are happy to provide our custom consultation at no additional charge. We would start you off with the comforter as this is the centre point of the rest of the design. We can then work on the personalised cushion when the bub is born. We would work on each requested piece one step at a time. The beauty of our products is that you can always add and grow your nursery with us. We "grow" right up to Queen size bedding.

We also offer a layby service where the customer is able to pay off their nursery bedding and décor in instalments over a period of 6 to 8 weeks.

Afterpay is also a great option for those that are on a budget. 

ANNA: Why did you start your business, Hoot DesignZ?

RHONDA: Hoot DesignZ was born out of my love and passion for beautiful, top quality homewares and gifts. When it came time to decorate my own nursery for my two gorgeous boys, it was difficult to find such attributes. The understanding of the limited market to purchase good quality products (especially for boys) became apparent when styling our nursery. I began creating my very own personalised products and before I knew it Hoot DesignZ was born. 

ANNA: What are some of the joys you experienced from working with new parents putting together their dream nursery's?

RHONDA:  We create so many gorgeous cot sets, bedding and personalised décor each week that it is a breath of fresh air when we receive messages to say how amazing our products really are when they receive them.

It is even more gratifying when our gorgeous customers send us glorious photos of their new born bubs, children and even adults enjoying a personalised cushion created just for them, or a stunning custom made set.

ANNA: Anything else you would like to add?

RHONDA: Setting up a nursery is one of those milestone moments in your life…..its like planning for a wedding. So much preparation and research, so much growing and excitement, so much bonding and a wave of emotional moments. You can become so overwhelmed with the mountains of options and information out there that It's easy to loose sight!

Whilst we love seeing your little ones pictured with our cot sets and décor , practicing sleep safety is of paramount importance and all loose objects such as toys, pillows, cushions, canopies, - anything that could increase the risk of suffocation, entrapment or strangulation should be removed and should not be within reach of your baby while sleeping or in the cot.  For further details on safe sleeping practices please refer to https://rednose.com.au/
---